MITOCHONDRIAL MEDICINE 2017 – Washington DC
Updated Schedules!
Download the latest symposium schedules (updated June 23, 2017)
Family/Patient
Scientific
Mark Your Calendars Now…
Mitochondrial Medicine 2018:  Nashville, TN
Sheraton Music City
777 McGavock Pike
Nashville, TN 37214 USA
Scientific/Clinical Program: June 27-30, 2018
Patient/Family and LHON Program: June 29-30, 2018
Course Chair:  Vamsi K. Mootha, Harvard Medical School, Boston, MA
CME Chair: Bruce H. Cohen, Akron Children's Hospital
Call for Abstracts will open November 1, 2017
About the Symposium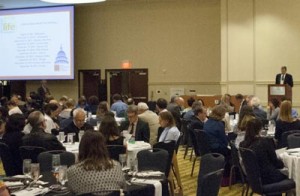 The United Mitochondrial Disease Foundation Symposium has been recognized by many researchers, scientists, and families as THE symposium for mitochondrial disease in the world. 10 years ago, the UMDF had only a handful of exhibitors and less than 200 scientific attendees. We now have more exhibitors than space at times and close to 600 attendees…representing almost every state in the United States and more than 15 different countries from around the world.
Symposium Location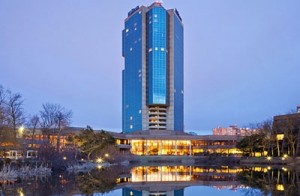 Conveniently located near Washington, DC and Reagan International Airport, the Hilton Alexandria Mark Center sits on a serene lakeside, blissfully adjacent to 43 acres of botanical preserve. Our 55,000 sq. ft. meeting space is perfect for your dream wedding or any other event – giving you the option of entertaining your guests indoors or outdoors. Savor the delectable cuisine at our award-winning restaurant, Finn & Porter and tantalize your taste buds with its innovative cocktails and select wines.
Sponsor the Symposium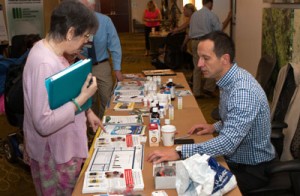 The United Mitochondrial Disease Foundation's annual symposium continues to attract clinical and basic science researchers from all over the world sharing an interest in mitochondria. Participants come from many fields, including biochemistry, genetics, neurosciences, cardiology, cancer, diabetes, nephrology, hematology, pediatrics and aging research. The symposium encourages the exchange of information and cultivates networking among physicians, researchers, patients and families.
For REGIONAL SYMPOSIA, CLICK HERE!
Symposium Links
Every time I attend it gets better and better . . . speakers, networking, etc. and especially the last 2-3 years, clinical trial/studies part of program. Great to see more in attendance!
Talking with doctors and researchers! So helpful. Teen sessions… My kids loved feeling a part of a group of teens that were "like them."
For our family, this symposium was transformational. We have been given hope. For our daughter, she now has friends who get her!